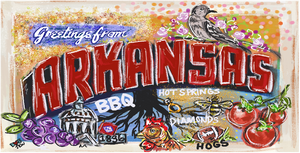 GREETINGS FROM STATE PILLOW SWAP
This classic look at an artistic postcard shows off the best qualities of your state!
Introducing our brand-new LuckyBird Pillow Swaps! This brings customization to a whole new level as you can collect swaps for all seasons, holidays, and hobbies - and use them whenever you like! Changing is as easy as buttoning a design onto the pillow and unbuttoning it to replace it with another!
Please note - this item includes ONLY the Swap, not the Button Pillow.